Many of us use only 20 – 30% of our wardrobe.  We tend to go back to a few items that are in recent circulation.  This leaves up to 80% of our clothes untouched.  We are often tempted by quick-fix purchases to change our look or keep up-to-date with fashion trends.  But there's often more than enough in our own wardrobes to stop us being tempted by so-called 'fast-fashion' purchases.
HERE ARE SOME IDEAS TO GET BACK IN TOUCH WITH YOUR WARDROBE.
Try 'the closet challenge' – Wear one different item of your wardrobe every day. It's a great way to rediscover what you have.
Shop in your wardrobe – Browse through your clothes and make new outfits. Rediscover and fall back in love with some of the things you already have.
Don't let the seasons limit you. Why not wear summer skirts and dresses paired with sweaters and boots or trainers in the middle of winter?  It's a great look and very comfortable!  And the same for summer days: a beautiful cashmere sweater looks gorgeous with a pair of shorts for a breezy day at the beach.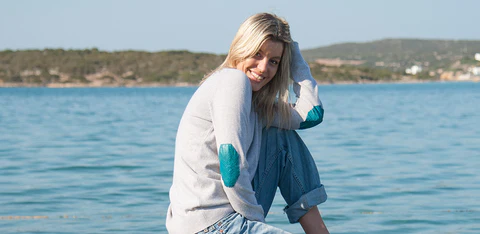 CONSIDER THESE ECO WAYS TO REDUCE YOUR WARDROBE.
Clothes swap – Organise a party with friends and exchange clothes.  It's so much fun, especially with a glass or wine or two!
Organise and donate clothes – Once you have worked out what you won't use anymore, take it to a local charity shop or research other local donation schemes.  Schools often organise collections, so sort children's clothes in a separate bag ready to be donated.
Sell them – second-hand fashion is poised to over take fast-fashion in 10 years.  If you have high-quality clothing you never wear, consider listing it online or taking it to a consignment store.  Somebody else is sure to love it!
AND WHEN YOU DO NEED TO BUY MORE, MAKE IT WORTH IT..  INVEST IN KEY ITEMS OF THE BEST QUALITY.
Choose clothes made of high-quality, natural fibres – they are long-lasting, temperature regulating and comfortable against your skin.  Natural fibres also need less washing, saving you money as well as the environment (you can air them between wears).
Make sure that clothes you purchase are classic pieces and versatile. Try to ensure they will work with your whole wardrobe.