Spring flowers are such a wonderful way to bring a sense of renewed positivity into the home once the Christmas decorations come down. They bring in fresh beauty and scents into the house and they signal the promise of new life with Spring arriving soon. What better way to start the New Year than bringing some natural beauty into the house?
At this time of year, there are wonderful varieties of narcissus, hyacinths and tulips available. You can chose mixed colours to add joyful explosions of colour or create a fresh look choosing all-white.
One of our favourites at this time of year are 'Paper White' narcissus which are not only so delicately pretty, their heady scent fills the house, freshening up even the darkest corners of the house. To create a striking arrangement, stick with one variety such as tulips or narcissus. There's nothing quite like large a jug full or 'Paper Whites' in the middle of the table or a vase spilling over with tulips on a sideboard.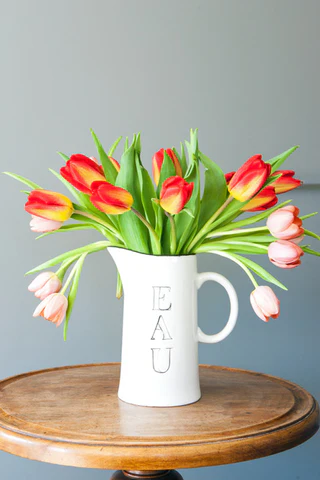 Spring bulb arrangements are also a wonderful way to decorate tables and sideboards. Again, hyacinth, tulip or narcissus bulbs are perfect for this. Fill a shallow bowl or a lined basket with potting soil and nestle in the bulbs in the top. Leave bare or cover the soil with moss.
You can even bring new life to some old containers such as candle jars or aluminum cans. Clean out the vessel, fill the base with gravel. This allows the bulb to sit proud of the water at the bottom which will accumulate due to the lack of drainage holes. Add a small amount of potting soil above the gravel and then rest the bulb above this. Top with a little moss. Or you can use the vessel simply as a vase for your cut flowers.
Here's to the start of a Happy, Healthy and Positively Beautiful New Year!