Making your own natural Easter decorations couldn't be more satisfying and easy with the abundance of Spring ingredients outdoors. You can fill your home with freshly picked spring flowers. Little posies of primroses and miniature hyacinths look divine in small vases on a bedside table. Line up potted plants bulbs such as hyacinths or narcissus to make a seasonal table centre.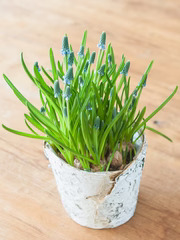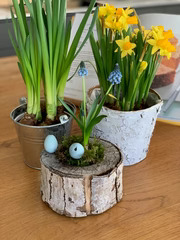 Seasonal wreaths are becoming more popular. Our in-house florist, Sophie Bayliss loves to make Easter wreaths using bases made from twisted vine. She wraps the base with moss into which she gently secures mini-hyacinth bulbs. The moss should give enough moisture if kept damp with some misting spray. You can use all sorts of natural ingredients to decorate the wreath – broken egg shells, twigs, feathers, dried berries, dried flowers and pine cones – and finish with some recycled pieces of ribbon.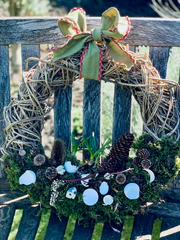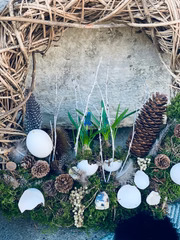 Decorated eggs are another seasonal way to liven up the house. You can suspend them from blossom covered branches in vases or add them to Easter wreaths or table centre displays. Sophie likes to use empty eggs shells (you can either buy egg shells that have been empty or you can do-it-yourself and save the contents to bake in an Easter cake).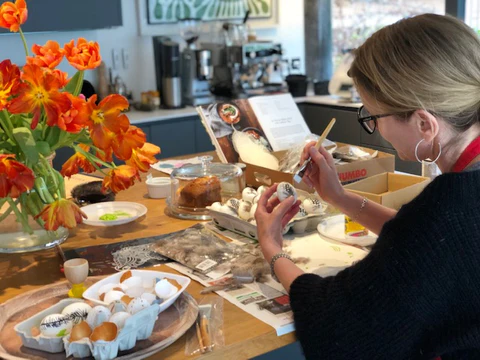 Using dried flowers from the garden is an alternative way to decorate eggs. Simply pick some daisies or primroses and place the flower head flat between two pieces of greaseproof paper. Put these in turn inside the pages of a heavy book and leave until dry. Once dry enough, use decoupage glue to stick them onto the egg. Feathers also look divine done in the same way.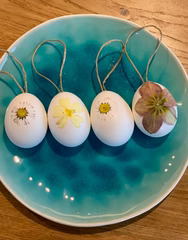 Painted eggs are an old favourite too! Why not paint the inside of broken shells and use them to decorate and Easter table? You could even have an egg decorating competition if you need some family entertainment!