Are you planning a trip to the beach this summer?  If you're lucky enough to be getting a dose of the good-old Vitamin Sea, then here are our top tips to make your trip as low impact as possible.  Plus we have put together a 'reef-safe beach bag' with some of our favourite products… with this little baby, you will sail through summer with a lighter footprint.

1) CHOOSE REEF SAFE COSMETICS
You probably consider how skin-care affects your skin, but have you thought about its affect on the environment?  Especially when you jump in the sea just after applying it (you've seen that oily, iridescent sheen from sunscreen on the surface of the water while you're swimming?).
Chemicals commonly found in sunscreen such oxybenzone and octinoxate have been shown to damage marine life.  Hawaii has just banned the use after 2021 of sunscreens containing chemicals harmful to coral reefs.  Oxybenzone, for example, induces coral bleaching by lowering the temperature at which corals will bleach when exposed to prolonged heat stress.  It is also toxic to other invertebrates, fish and mammals.
The solution?  Choose cosmetics which are 'reef safe' with natural ingredients.  In the case of sunscreen, you're looking for mineral formulations and "non-nano" ingredients.

2) BUY CLOTHING WITH SUN PROTECTION
We need to apply suncream everywhere and often to be safe, but it comes in single-use bottles and the chemicals in it may not be reef-safe.  So what can you do?  One gloriously simple option (and cheaper in the long run!) is to use UV resistant clothing, from your swimwear to sun clothes such as a rash vest for swimming.  These clothes are practical, reduce the need for suncream to just your exposes areas and, because they don't wash off, they are the safest way to spend an hour snorkelling.

3) DIG OUT SOME OLD FAITHFULS FOR YOUR HOLIDAY WARDROBE
Join the zero-waste revolution starting with your holiday planning.  Don't fall into the trap of rushing online to buy a whole new wardrobe.  It's fun for a second, but those clothes are going to hang around.  Remember that it takes 2,700 litres of water to make a t-shirt!  Instead, take some time to dig around in your cupboard and find some clothes you haven't worn in a while.  Look at them with new eyes.  Can you shorten the hem? (Ask the seamstress at your local dry cleaner).  Can you add new buttons, darn a hole, dye it a new colour? (Do it in your washing machine).

4) IF YOU BUY SOMETHING NEW, MAKE IT A KEEPER
When choosing something, don't buy it just for this holiday.  Invest in it because it is good quality and will last a long time.  Doubling the lifetime of a garment reduces its production footprint by 20-30%.  Better to fall in love with one beautiful piece of clothing and let your journey together start on this holiday.  If it's a keeper, you'll still be packing it into your suitcase for many seaside holidays to come.

5) GET ON THE RECYCLED PLASTIC BAND-WAGON
Single-use plastic accounts for 8 million tonnes of plastic waste dumped into the oceans each year.  Washed-up plastic debris is not a good look when you are sipping your pina colada from the beach bed.  Choose recycled plastic accessories or clothing to join the Big Clean Up #beatplasticpollution.

6) PACK REUSABLE FOOD AND DRINK CONTAINERS
Hippy territory no more, reusable cups, straws, cutlery and containers should now be staple items in your bag.  It's easy to throw in a cup and use it to drink from all day instead of take-away containers.  In fact, choose the right thermal cup and the taste will be better (no more plastic residue!) and your drink will stay icy cold or piping hot.  Ask for no straw or cutlery when you order so you can whip our your stylish bamboo and make everyone jealous. If you've already use them that day, ask the cafe to rinse them out, most are very happy as they are saving their own.

So that's a few things to consider this summer.  Please tell us your ideas for lower impact travel.  As we are feeling very inspired, we have put together this reef-safe beach bag with products that take care of the planet as much as they take care of you.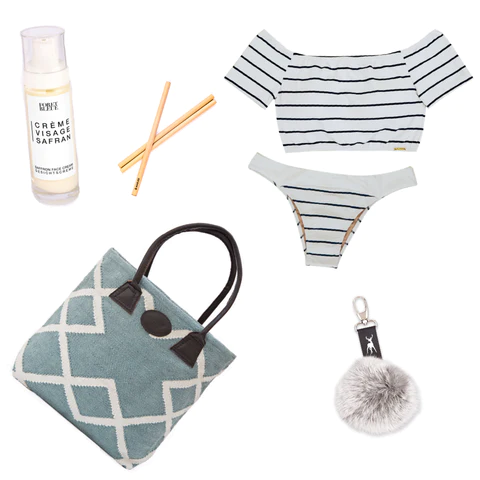 Clockwise from top left
1) Reef-safe face cream from Fôret Bleue, part of La Collective in Geneva.
2) Bamboo straws, part of a collection of reusable packaging we will start selling soon on Tallis.  Watch this space!
3) Bikini made with non-toxic, biodegradable fabric which has UV 50+ protection, from Atelier 1202.
4) No bag is complete without some decoration!  Choose this reclaimed fur pompom with zero plastic from Tallis, available to buy online.
5) Waterproof so perfect for the beach, this bag is made from recycled plastic bottles.  Made by Weaver Green and available through Tallis in Geneva and Commugny by appointment (email us on [email protected] to see the collection).